Soft Washing Houses/Building Exteriors
Exterior Building Power Washing … "A Clean House is a Healthier Home" … We won't blow the siding off of your house! We offer exterior House Washing, Siding Cleaning, Pre-Painting Prep for the following types of siding:
Cedar     
Vinyl     
Steel     
Aluminum       
Painted Siding       
Stucco     
Brick/Stone
Are you concerned about germs, viruses, mold and mildew? Does Covid-19 have you concerned? Has your home begun to look older than it really is? Have DeckaidPro Soft Wash your home or building. It is a fact that the cleaners we use will kill most germs and viruses including Covid-19, per the CDC. Much of what you may be seeing is not dirt but mold, mildew, and algae (organisms). We will not just "blast" off what you can see only to have it quickly return again. We will kill those organisms growing on your building for a lasting effect.
Treatment & Protection:
Let us make your home more beautiful by gently washing away the dirt, dust and mildew that is building up on its exterior. Our house & building washing service is second to none and can add many years of life back to your home along with increased property value which makes your investment with us a good one.
Our process involves applying an environmentally friendly cleaning solution to your gutters, soffits, fascia and siding. The method is called SOFT WASHING. With our unique washing tools, we gently wash your siding from the soffits down to the foundation. We remove dirt, cobwebs, pollutants, algae, mold and mildew. Our cleaning process will not harm your plants, grass or pets. We respect and protect your property.
Beyond adding value, exterior house cleaning also does many other things that can save you money while reducing the upkeep of a home. For example, cleaning painted wood and vinyl siding will greatly reduce color fading so you don't have to paint as often and so your vinyl endures mother nature as intended.
The cleaning process we use works equally well for brick, stone and stucco surfaces which trap tons of dirt and debris due to their coarse texture. And if the build-up is left untreated, it will make the outside walls especially prone to spiders and insects, which over time will almost always lead to infiltration into your home.
At DeckaidPro Powerwashing, you will find that we take much pride in our work and customer satisfaction. That's just a couple of reasons why we only use top quality cleaners that won't damage your house, lawn or the environment.
Our commitment to doing the best job possible along with over 15 years experience makes us the right choice for your cleaning needs.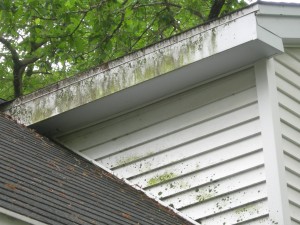 VINYL SIDING PRIOR TO SOFT WASHING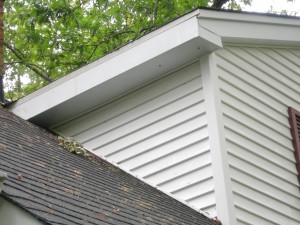 VINYL SIDING AFTER SOFT WASHING
Contact us today for more information and to request a FREE ESTIMATE from one of our friendly soft washing specialists. 
If you are looking for the cheapest cost or the lowest price is your only goal, we may not be the right company to call for your project. We make every effort to give you the best quality and value for your money and firmly believe that you get what you pay for, especially in this industry.