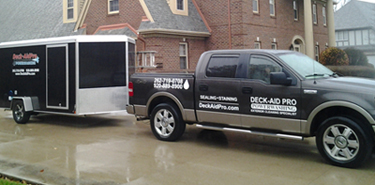 DeckAidPRO Radio Spot on WTMJ
Wisconsin's POWER in Power Washing & Your Soft Washing Experts!
This is a new era and keeping the exterior of your home clean will not only make it look great, reduce maintenance and repair costs while increasing its value. It will make it a healthier place. Our cleaners have been approved by the CDC to kill Covid-19 and most germs and viruses. Our process is referred to as "Soft washing" because it is so gentle! Plus the fact, the National Association of Real Estate Appraisers has stated that a clean house can add up to 10% to the value of a home. Compare that to the price of a washing service and it's not hard to see why exterior house cleaning is such a smart investment for home and business owners alike.
To benefit even more, you can take things a step further than just washing the outside of your home. Deck cleaning, roof cleaning, concrete cleaning, brick paver cleaning and sealing are more fantastic ways to spice up the curb appeal of your property. These types of washing projects are very affordable and can usually be completed in one day, making them the perfect solution for cleaning up before family gatherings, parties and prepping real estate for rent or sale.
At DeckAidPRO Powerwashing, we offer all of these cleaning services plus commercial pressure washing for businesses.
There are many reasons for hiring professional power washing companies instead of attempting to do it yourself, but some of the most important are saving personal time, effort and risk of damage. Plus, we will get it right the first time. Leave it to the pros at DeckAidPRO Powerwashing so you can go on with your everyday life. What we clean stays cleaner, longer!
Contact us today for more information and to request a FREE ESTIMATE with one of our friendly pressure washing specialists.
If you are looking for the cheapest cost or the lowest price is your only goal, we may not be the right company to call for your project. We make every effort to give you the best quality and value for your money and firmly believe that you get what you pay for, especially in this industry.