Deck Maintenance Programs
This is a game-changer. This is the one way to keep your wood or composite deck looking great year after year. Join the over 125+ decks we now take care of every spring! Never spend the big $$$ to clean, seal, stain again!
Pretty messy after a tough winter!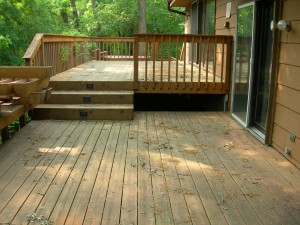 Pretty nice after we performed our annual spring maintenance.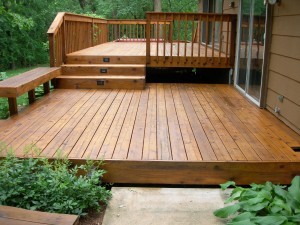 Deck-Aid Pro Powerwashing offers annual deck maintenance programs for new and returning customers. Many people wonder not only what a deck maintenance program is, but why you would need one. Simply put, like lawn maintenance services, we come in every year and take care of your deck. We charge you a nominal fee which includes all we may need to do including the cost of added staining/sealing.
We believe this a unique, game-changing approach rather than hyping the "latest, greatest, whiz-bang idea" or "miracle 50 year sealer" that sounds good but always fails or the typical deck restoration services that promote sealing or staining your wood every 2-3 years. Either way does not solve the basic problem…how to keep it looking good after the job is finished. No matter what you heard, it is not easy. Most never figure it out. All of those other business models leave you with the headache of keeping your deck or property looking good and when they fail, who is going to make it right again?
As soon as the deck is finished, the wear and tear of Wisconsin weather takes over. As with any outdoor structure, the deck (composite or wood) gets dirty, moldy, and develops mildew, which can grow out of control before you know it. Nothing will prevent this. Once your deck is in this condition, you're stuck and probably left wondering what to do.
Every property has unique circumstances that need addressing, from the effects of sunlight to the grade or species of wood in use to plants, trees and more. It can be overwhelming. That's where Deck-Aid Pro Powerwashing comes in.
We make it easy for you. You could say we never leave! We take over the responsibly of keeping it looking good  by coming in every spring to do whatever it takes to keep your deck looking amazing, including resealing/staining as needed,  all for one small fee. You'll never have to spend big money to do a big restoration of your deck's finish again. Deck-Aid Pro Powerwashing has customers using this program for over 8 years and their decks look great.
We clean a growing number of composite decks. They get moldy and "dingy" looking. These new deck materials are easy for us to clean and customers are pleasantly surprised with the "like new" results.
Get on board and you'll be all set come next year and for years to come.
Contact us today for more information and to request a FREE ESTIMATE from one of our friendly soft washing specialists. 
If you are looking for the cheapest cost or the lowest price is your only goal, we may not be the right company to call for your project. We make every effort to give you the best quality and value for your money and firmly believe that you get what you pay for, especially in this industry.