Combine Deck Washing & Sealing/Staining with our Deck Maintenance for a headache free deck!
Cleaning and maintaining decks with the proper wood care products will keep it looking great for years while reducing repair costs related to wood rot. Let's face it, nobody likes to spend money fixing things that shouldn't be worn out yet. But it will happen if your deck is not protected from the elements.
Our team of professionals can strip away old stains and sealants, wash off dirt, spots and mildew, then apply a fresh coat of wood stain or sealant that will help protect it from the environment. Our service is not limited to decks either. We can also restore pergolas, gazebos, fences and all types of outdoor hardwoods.
At Deck-Aid Pro Powerwashing we wash decks, we power wash decks, we clean & restore decks. We do not pressure wash decks. What does that mean?
Washing & Powerwashing decks is the same thing. It is only a light cleaning using the power of enviro/safe detergents rinsed off with a low pressure stream of water to remove dirt, mold, and mildew. This is an essential step of proper spring deck maintenance on all wood and composite decks.
Cleaning and restoring a deck removes the old, failed stain and sealer then installing new stain & sealer. This is done with more powerful detergents and the same low pressure water rinse.
Pressure Washing is the method of using a stream of high pressure water to clean. This should never be done on wood or composite decks. It will gouge and damage the wood or composite materials turning them into what we call a sculpture, lol!
What is the Process?
Step 1 Free Estimate & Evaluation
Throughout every step of this process, one of the owners of DeckaidPro LLC will be on site to insure quality.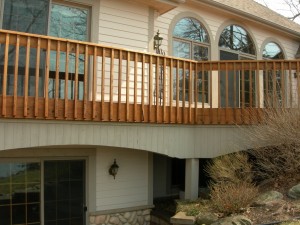 A DeckaidPro professional will assist you with a free evaluation of your wood deck situation and a free estimate of our  cost effective, long term deck care process.  We make this as painless as possible. No 30 minute sales pitches,most of the time we never meet. We come in, (you do not have to be there), we run some quick/minor tests so we can be as accurate as possible, then we send you a formal proposal with numbers that do not change unless you change the job.
Step 2 Unsurpassed Site Preparation Prior to cleaning your deck we will protect your home, patios, walkways and vegetation with tarps as needed. Our customers that have experienced the methods of our competition are amazed at how extensive and thorough our protection procedures are. Also, when we are done, you may have some water spots on the windows but no heavy films from harsh cleaners.
Step 3 Cleaning/Stripping Our wood care professionals have an eye for detail. They will clean and strip your wood deck of any finish that may be failing (we like to get it all off the wood) and tend to any decayed wood fibers. They will kill the mildew & fungus. This is done using environmentally safe techniques that include the expert use of  various detergents and strippers. We use very low pressure cleaning equipment ( everyone that watches us says they are amazed how low the pressure is) to insure the best for your deck and your property.
Step 4 "The Secret Sauce" Once we have completed step 3, we will apply a special neutralizing agent to the wood. This is the "special sauce" which will return your decks original beauty and prepare the woods surface for finishing.
Step 5 Curing Our technicians will test your deck to make sure it is dry, to insure the wood is ready to accept a new finish. We use electronic moisture meters so there is no guess work!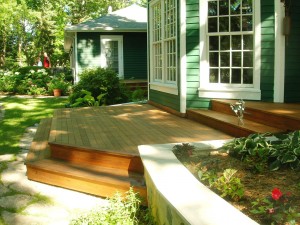 Step 6 Staining and Sealing There are only 2 or 3 really top notch sealer/stains that we would use today….none are available in big box stores. We believe so strongly about this that we ship ours in from Texas. It is a penetrating oil based treatment that will prevent wood rot and fungus growth while eliminating unsightly weathering and it will stop UV damage. But they all say that, right? What is important is knowing how and when to use it! We use our specialized techniques with this outstanding stain/sealer to restore a rich attractive look. But equally as important, when combined with our "game changing" Deck Maintenance Program, it is  far less expensive to maintain. Remember, when we are done, the sealer/stain will be on your deck, not everything next to it.
Contact us today for more information and to request a FREE ESTIMATE from one of our friendly soft washing specialists. 
If you are looking for the cheapest cost or the lowest price is your only goal, we may not be the right company to call for your project. We make every effort to give you the best quality and value for your money and firmly believe that you get what you pay for, especially in this industry.